Concussion Policy and Information
---

The St.Catharines Minor Baseball Association is committed to protecting the health and safety of our athletes. Although we strive to prevent concussions, the reality is concussions can happen. As a result, we have partnered with Complete Concussion Management Inc. (CCMI), a Canadian-based, international research and concussion care organization. From initial pre-season baseline testing to concussion treatment and rehabilitation, CCMI practitioners are trained to collaborate with primary care physicians to co-manage concussions and ensure athletes safely Return to Learn, Work and Play.
In 2018, the Ontario Government passed "Rowan's Law" with regards to Concussion Safety. This was the culmination of legislation done following the tragic death of a high school rugby player from Ottawa, Rowan Stringer, who died in the spring of 2013 from a condition known as Second Impact Syndrome (swelling of the brain caused by a subsequent injury that occurred before a previous injury healed).
Requirements for Sport Organizations
Ontario is a national leader in concussion management and prevention. Rowan's Law (Concussion Safety), 2018 makes it mandatory for sports organizations to:
ensure that athletes under 26 years of age,* parents of athletes under 18, coaches, team trainers and officials confirm every year that they have reviewed Ontario's Concussion Awareness Resources

establish a Concussion Code of Conduct that sets out rules of behaviour to support concussion prevention

establish a Removal-from-Sport and Return-to-Sport protocol
To review Ontario's Concussion Awareness Resources, please click on this banner:

---
SCMBA Concussion Policy (PDF)
---
WHAT IS A CONCUSSION?
A concussion is a brain injury caused by acceleration or deceleration of the brain following a significant impact to the head or elsewhere on the body. The impact causes biochemical imbalances within brain cells, resulting in decreased blood flow and temporary energy deficits. Symptoms may include loss of consciousness, headache, pressure in the head, neck pain, nausea or vomiting, dizziness, or balance problems, among others.
---
MULTIMODAL BASELINE TESTING
Multimodal baseline testing is a series of physical and cognitive tests that provide a pre-injury overview of healthy brain function. These tests can offer healthcare practitioners an objective benchmark on which to compare should an athlete sustain a concussion.
As concussion symptoms often disappear days to weeks before the brain has recovered, having valuable baseline information may help healthcare practitioners to make safer return to play decisions.
As part of our partnership with CCMI, St.Catharines Minor Baseball Association is strongly recommending that all athletes 13 years old and above complete a comprehensive baseline test prior to the start of each season. For more information about baseline testing click here.
While Baseline Testing can be accomplished individually, the preferred way is through team engagement. Please reach out directly to the Niagara Health & Rehab Centre to coordinate your team Baseline Testing.
They can be reached at:

23 Hannover Drive, Unit 3A
St. Catharines, ON L2W 1A3
P: 289.362.3600
---
CONCUSSION TREATMENT
During the early stage, following injury, a period of relative symptom-limited physical and cognitive rest is recommended. Research suggests 24 to 48 hours; however, these decisions are made on a case-by-case basis.
Following a short period of rest, the International Consensus Statement on Concussion in Sport recommends a gradual increase in mental and physical activity guided by a licensed healthcare practitioner trained in concussion management. If symptoms persist beyond 10 days, exercise therapy, manual therapy of the neck, diet and nutrition changes, and vestibular and visual rehabilitation can be effective treatment options in these cases. Visit completeconcussions.com/find-a-clinic to find a recognized healthcare provider.
---
RETURN TO LEARN, WORK AND PLAY
Standardized concussion treatment and Return to Learn, Work and Play strategies ensure adequate recovery time and thereby limiting the risk of further injury.
We recommend a 10-step process which includes a phased return to cognitive and then physical activity: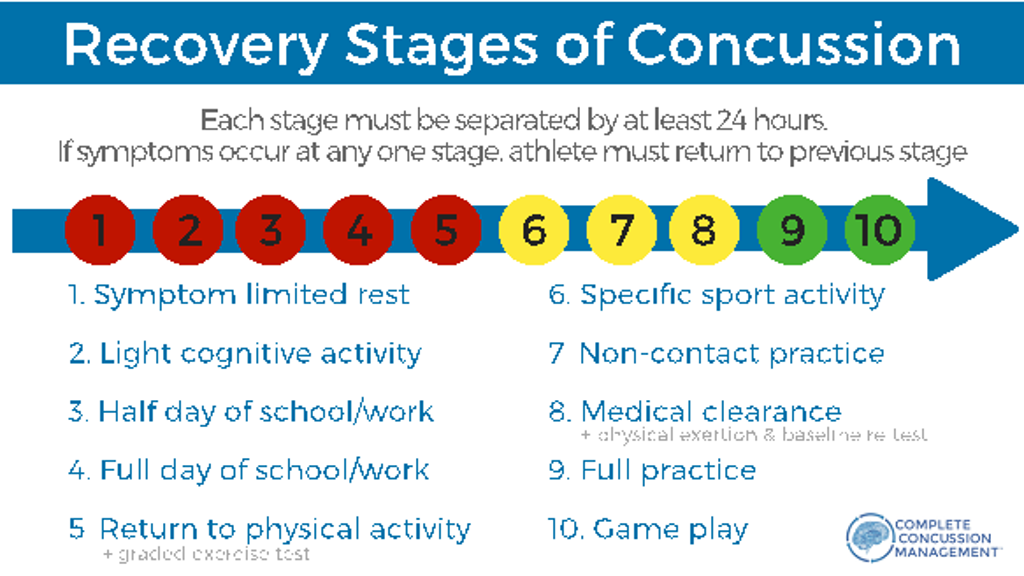 ---
CONCUSSION SIDELINE COURSE
All coaches and trainers of SCMBA are required to complete the Concussion Sideline Course, equipping them with an understanding of what a concussion is, how to recognize them, and how to assist in safely managing a concussed athlete back into the classroom and sporting environment. THIS WILL BE AN ANNUAL TRAINING REQUIREMENT.
Coaches and trainers will also receive access to the mobile Concussion Tracker App, allowing them to assess and report suspected concussions to recognized CCMI clinics as well as track recovery status on injured athletes. This allows seamless communication between teams and healthcare practitioners and ensures safe Return to Learn, Work and Play.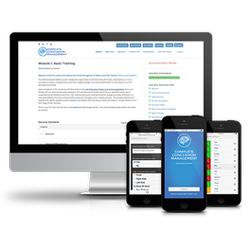 Concussion Sideline Course Follow-up Webinar and Online Q&A


Dr. Geoff Gamble from Niagara Health & Rehab Centre has graciously offered to host multiple online webinars. These will be offered pre-season, and the dates will be posted as they become finalized. This will provide an opportunity to review the material briefly with Dr. Gamble, as well as clarify any questions that you might have.


Webinar Dates:
February: Saturday, Feb. 27 12pm-1pm Zoom Meeting
March: Tuesday, Mar. 30 7pm-8pm Zoom Meeting
July: Wednesday, July 7, 7pm-8pm Zoom Meeting

Miss the Webinar?! Watch it HERE.
---
NCCP Making Head Way (Concussion Training)
In addition to the CCMI Online Training module above, which will be an annual training requirement, we will also require all coaches to take the following NCCP Making Head Way module. This will only be required once (not annually), and if you have already completed it through involvement in another organization, you will not be required to take it again. If this is the case, please let us know by emailing SafeSport@stcatharinesbaseball.ca.
ALL coaches will be required to complete the NCCP online training module for Making Head Way.

COST: This training module is FREE !!
DURATION: This training module takes approximately 60-90 MINUTES to complete.
FREQUENCY: Coaches will only be required to take this module ONCE (not annually).
This course is designed to help you gain the knowledge and skills required to ensure the safety of your athletes, this multi-sport module will cover:
What to do to prevent concussions
How to recognize the signs and symptoms of a concussion
What to do when you suspect an athlete has a concussion
How to ensure athletes return to play safely
HOW TO REGISTER:
To register and take this course, Coaches can click on the Making Head Way Banner (found below), which will take them to The Locker, which is the portal through which National Coaching Certification Program (NCCP) courses are administered.
If you have never taken a NCCP course (for any sport), then you will need to "Register" first to create an account.
If you have taken a NCCP course in the past (for any sport), then you will have a NCCP# already, you will been able to log in. Links are available to help look up NCCP#'s or forgotten passwords.
THERE IS NO BASEBALL-SPECIFIC COURSE, SO PLEASE SELECT THE "MAKING HEAD WAY IN SPORT" GENERAL MODULE.

---
Additional CCMI Resources & Videos: